How To Add Live Chat To Your Website For Free?
When you add chat to website, you can connect with your site visitors live, when they are most interested in your business. This article will take you through easy steps on how to add chat to website.
Fibotalk Live Chat software for website appears as a chat box, usually in the bottom-right corner, through which your website visitors can chat with you or your help desk in real time.
Before you add chat to website, let's take a quick look at its advantages.
Why add chat to website?
Acquire More Leads
Provide your customers with great Support
Guide customers to right information
Establish trust and reliability
Close deals faster
Follow-up on your conversations with great tools
Here is how you can add Fibotalk chat to website in 5 simple steps
To integrate Fibotalk live chat with your website, just follow these five steps.
Step #1: Register
Register for Fibotalk by providing your details and a unique domain name.
Step #2: Verify
After the details have been entered, you will receive a verification email. Click on the link provided in the email.
Step #3: Login
Once your account has been verified, you can simply login.
Step #4: Embed
If you have a WordPress website/ blog, then follow the WordPress live chat plugin installation instructions.
To embed the chat box html code in your website, head to Channels -> Web widget-> Plug on Website. Paste the code into your websites HTML (just before the </body> tag).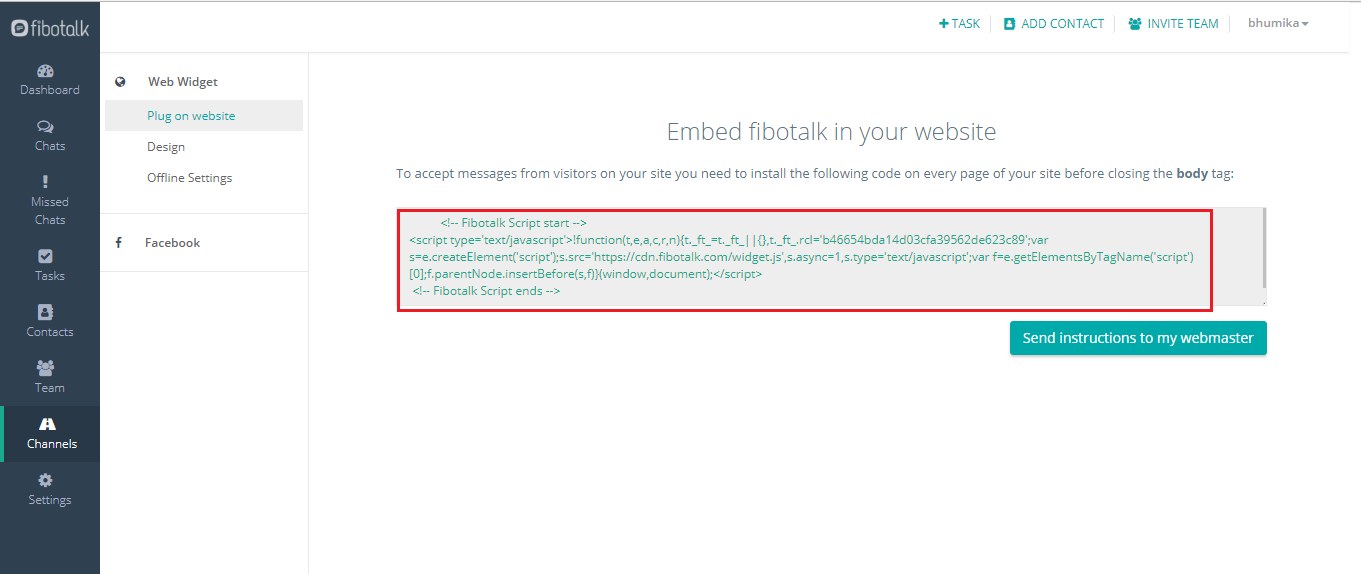 That's it! Fibotalk is now setup in your website.
Step #5: Test
Surprised by how easy it was? Make sure everything is working fine by running a quick chat test!
And there you have it. The ability to easily connect with your customers, solve their queries and boost lead generation using live chat now lies at your fingertips! But where should you exactly start off from? We got that covered too. Because with Fibotalk, you can do so much more.
After adding live chat on website, what to do next?
Once you add chat box on website, you can invite your teammates to join Fibotalk as agents. As an agent, you can answer the website visitors' queries and convert them into happy and paying customers.
Download the app and access the easy mobile functionality
Fibotalk agents can chat with their visitors from their smart phones. To manage Fibotalk chat on phone, download the app.
Fibotalk lets you customize your chat widget according to your brand's look and feel. By doing this, you ensure that the widget is seamless with your website design as well as noticeable enough to grab the attention of your customer.
Integrate website chat with social media channels
Manage your social presence and connect with the customers who reach you via social media. Once you add the chat box on website, integrate it with your Fibotalk chat tool with Facebook, Viber, Twitter, Telegram and other apps.
Capture website chat lead directly into your CRM
For every new visitor, Fibotalk creates a contact in the system to provide analytics and easy contact management.Integrate Fibotalk with Salesforce CRM and capture all your customer data from chat into the CRM.
Fibotalk is a website live chat tool that has been built to provide easy and quick customer service to visitors on website and social media channels managed by businesses. Signup for free now to try out Fibotalk.